One more day to go before saying goodbye to 2012. This year is not been good year,I lost my beloved brother,3 hamsters,was promised for the new position but I lost it to a 22 years old fresh graduate,moved but I have to wait for another 1 1/2 years before I can get my new house (technically I'm being duped by the developer,damn!).
So looking forward to great year ahead. My resolutions? Not much,start with healthy eating. I admit I skipped lunch a lot this year,mainly because of what happened in my lousy life I lost my appetite. And I'm too tired to cook something when I got home. Seriously when I watched Food Network channel,I keep wondering why we can't get those convenient ready cut & washed veges,deboned chicken thighs and sliced/cubed beef in supermarkets here? Plus they don't offer the service to do it for me like the butcheries in Western countries. I have to rely on myself then end up making big mess in kitchen.
I started blogging in 2010,wrote about recipes from my grandma and food I grew up with. It didn't last long though because I don't know how to carry on writing the recipes and make it more interesting for the readers to read. 2011,a girl on Facebook asked me to upload my custom sims to a blog,so this is it Sweet Sims. :)
Instead of opening a new blog about food because I don't think I can manage 2 blogs at once,so this post is specially for my food story.
Peanut Butter Fudge
This was my second attempt of making fudge. This one was quite sweet,since they don't sell marshmallow creme here,I substitute it with mini marshmallows and evaporated milk. I didn't do the softball stage testing,just boiled for 5 minutes,beat until it lost glossy looking texture then poured in square pan.
Lemon Cupcakes
I made these for my younger brother,he liked the icing which I didn't care much about. Very grainy as you can see,although I've sifted the icing sugar.
This recipe is by Rachel Allen.
Butter Cake
This was from box butter cake mix,tasted quite good for box mix.I added lemon juice into the icing because I don't like plain butter cream icing. I posted this picture on FB,lots of my friends liked it hehehe.. :)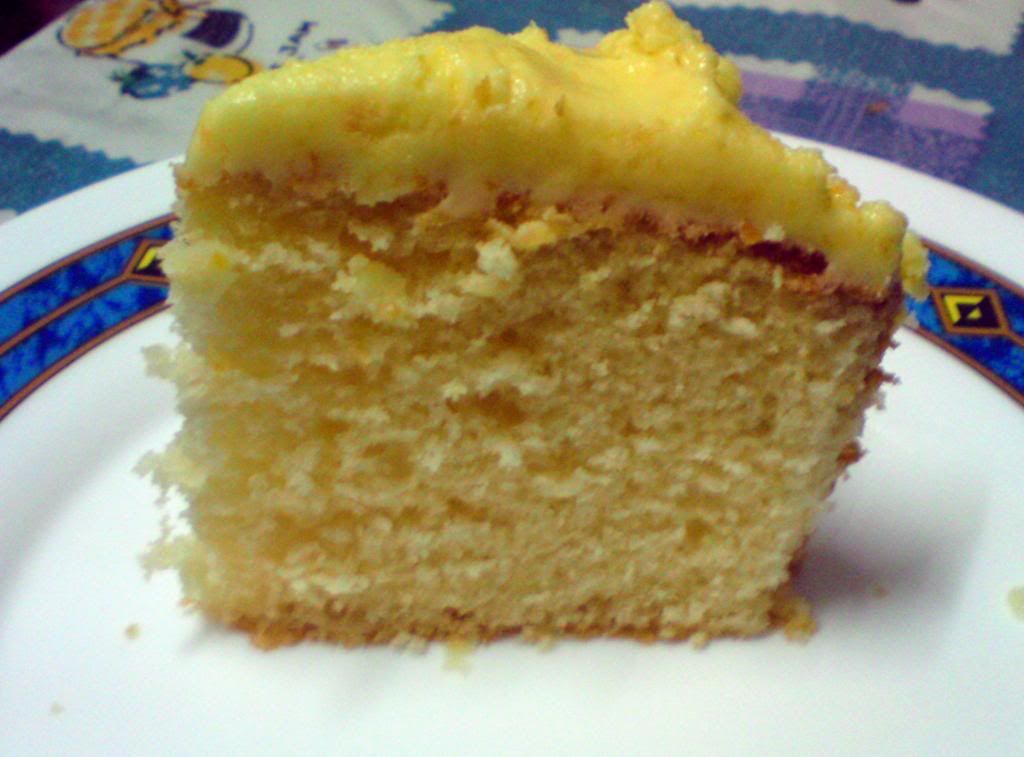 Lemon Squares
When I watched that latest Scream 5 on HBO and saw the police officer gave lemon squares to her superior,decided to make one batch myself. Tasted sweet,buttery and very lemony,like them.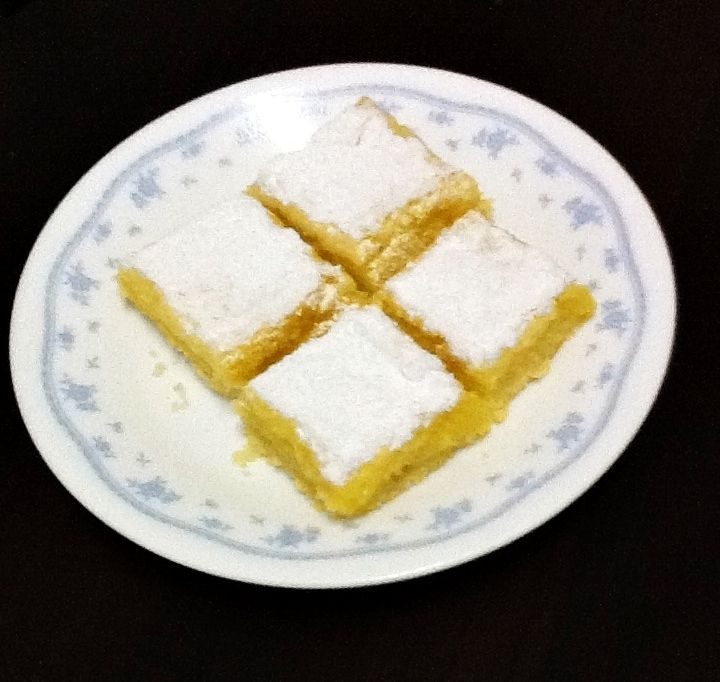 What I Ate
Seafood Feast
I took this dinner picture last year,during short vacation with my partner. This place serves excellent seafood he likes the crabs very much,especially Chili Crabs even though they aren't as spicy as Singapore style version.In this picture I ordered Black Pepper Crabs for him,to try something different. Then we had Lemon Chicken,Cereal Prawns (both my favourites) and mixed veges plus egg soup (which arrived late).
Yumm....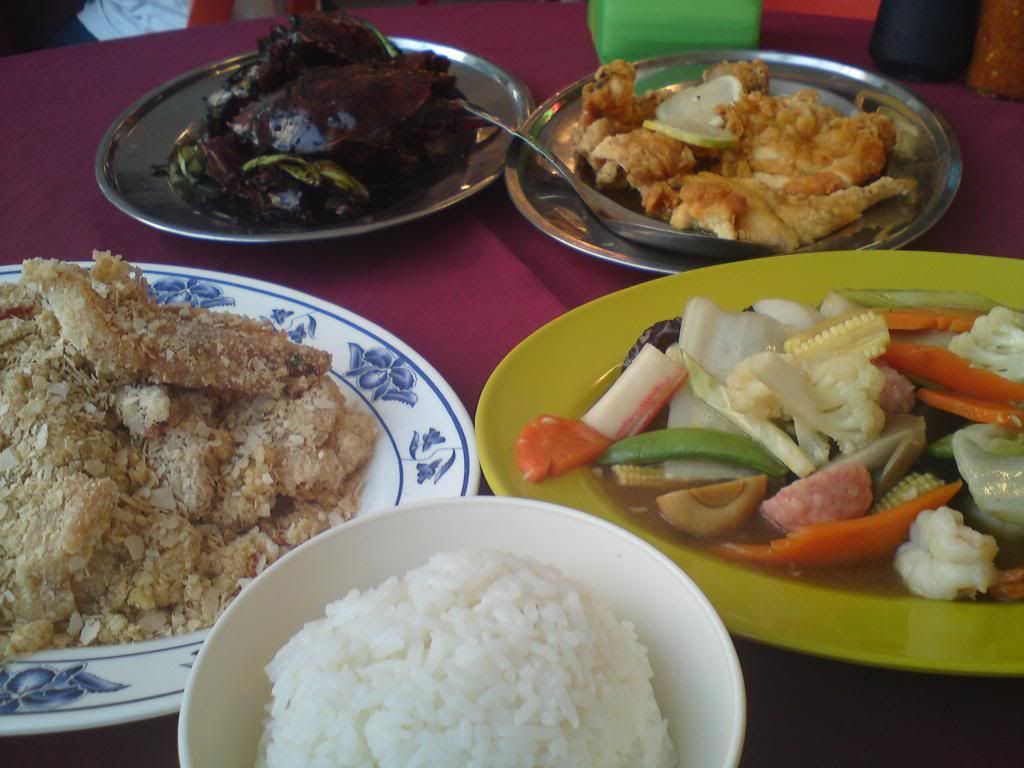 Lunch,White Pepper Noodles
Made from packet noodles but the broth was way too peppery for my liking.Added prawns and green mustard leaves.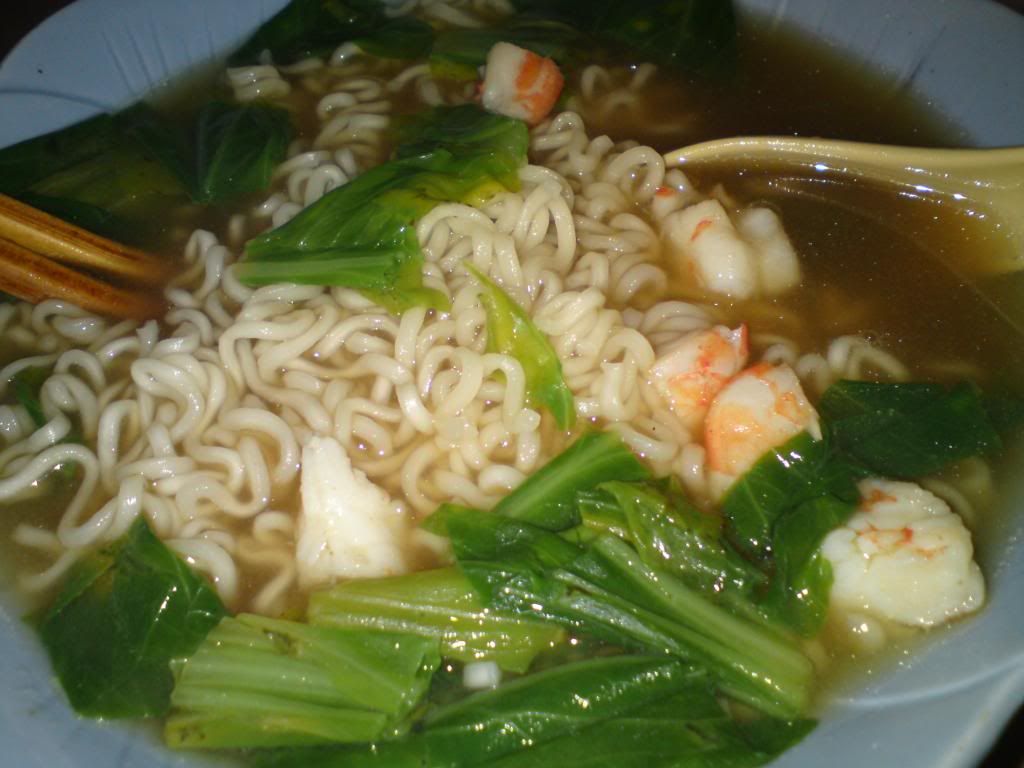 Lunch,Chicken Curry Noodles(咖喱鸡干面)
This is dry version,I love it! Not too spicy but fragrant with curry leaves,with huge chunks of chicken pieces and potatoes.Ordered it with soy bean milk during weekend lunch out.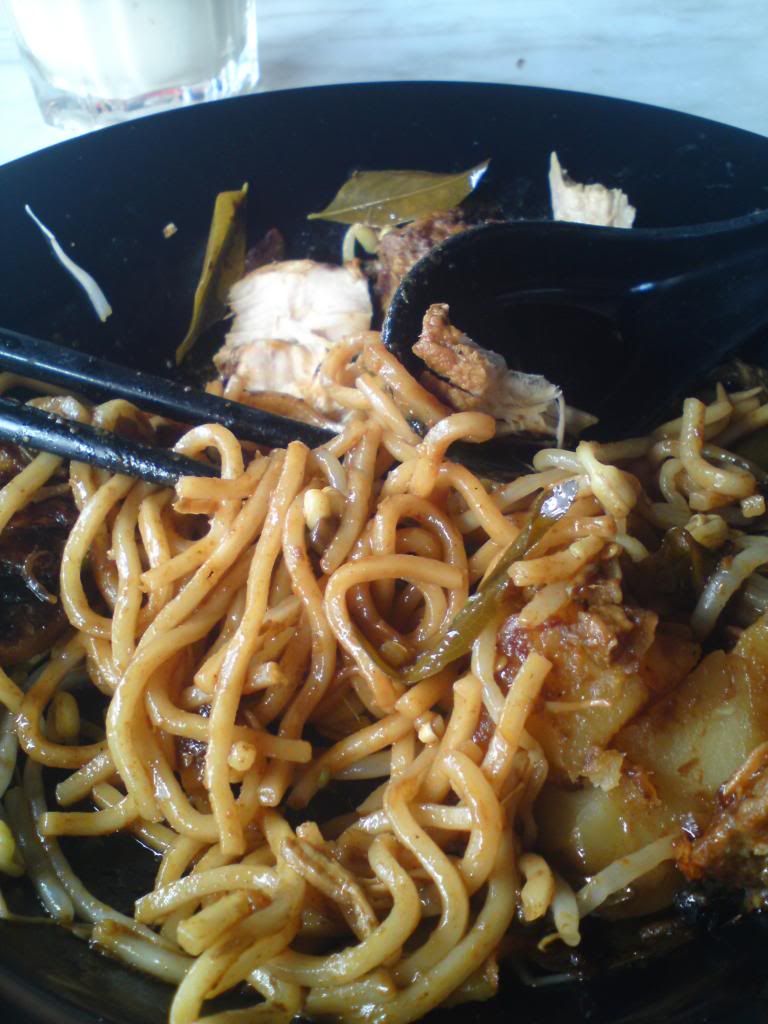 Midnight snack(???) Blueberry Pancakes
Ok I made this last night,home alone and I couldn't sleep until 3 am. I found small packet of blueberries in fridge and decided to make something easy,the berries burst out as I cooked the pancakes,woh! Served with maple syrup,next time I might reduce baking powder because there's metallic taste with using 2 teaspoons.Not as fluffy as McDonald's breakfast cakes but they're home made. :)
oh yes..I am left handed,so does my father and one of my brother.When I was young I thought I'm not a normal person just because majority people I saw are right handed. The other day after I sharpen cooking knife,it felt 'heavy' at one side. Not sure if it's because my left hand or the angle I hold the knife when sharpening it. Being lefty can be incovenient sometimes,especially when using scissors,putting hair clip and sliding those buttons on iPhone and iPad. People gave me this weird look when I signed papers/receipts in public using my left hand. Why? Am I that different? Famous actress like Nicole Kidman are lefty as well right? :p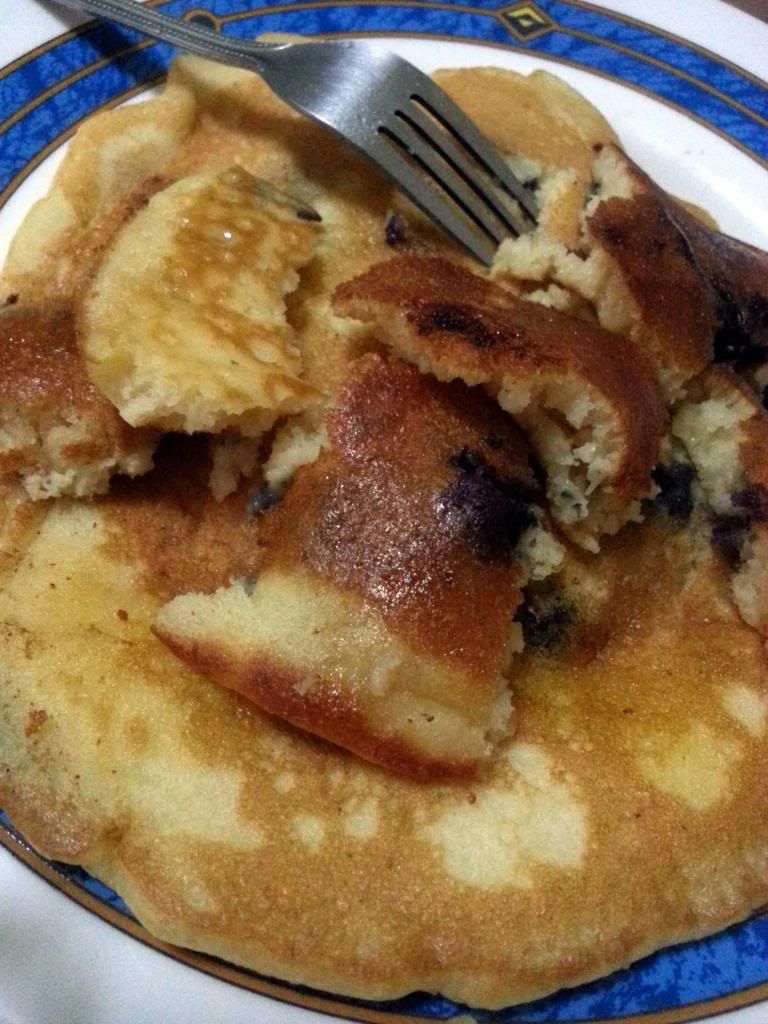 I ate a lot,when I'm in the mood and have huge appetite. Got to love those sweet stuff and greasy fried food. Surprisingly I'm still maintained my weight,55 kg until now. I stand 5'4,when I see my cousins with their tall and big figures,I can't help but thinking I should eat more and more so I can become like them lol.
Crazy..yeah. Well at least I'm glad I have my appetite back,that's important. I don't want to skip any meal if I can.I had been diagnosed with mild stomach ulcer in 2007,thank God it wasn't serious doctor prescribed me with pills and advised me to drink cabbage juice. Yes the juice worked wonders,really hope I don't have to go back again to the doctor because he thought I had eating disorder. That's awful,I had lost 11 kg in one month (54 went to 43kg) when I was in college but I was certain it wasn't because I'm anorexic or had eating disorder. I just lost my appetite! :D
Well I gained back my weight after I start working,still I skipped breakfast and lunch sometimes. I simply not very fond to idea of going to the cafeteria eat together with my colleagues. I went with them it 3 times,once with my boss,wasn't good experience. I feel awkward and left out,I just don't know how to join their conversation which involves talking about their misbehave students and boyfriends/fiancees/husbands all the time. The usual stuff among women,but still I'm not that close to them to share my personal life during lunch hours.
So what do I do? Bring my own snacks of course,eat them in office (when I don't have morning class) which is great because I'm not the only one doing this hehehe. I packed red bean steamed buns,chocolate muffins,P&J sandwich. I can't eat too much or else I'll fall asleep at 10 am morning,it did happen twice haha! :)
I wish EA would produce new expansion pack like Sims 2 Open For Business again for TS3,I just love the food and running my little bakery serving customers and selling beautiful desserts. Since I have Supernatural and Seasons EP,so my next wish is OFB. I want my bakery back! :D