Hello again!
It's near Halloween,so I came up with this idea when I played one my favourite doll,Megumi-chan. She is in her usual sweet-girly innocent kind of doll which can be boring,so I thought I'm going to give her different image this time.
How about she cry blood tears when feeling lonely? Then have this scary urge to kill someone with a huge knife? Complete with cute smile on her lips? Ok if you meet this doll during Halloween night and she invited you to come over to her place,will you say yes?
We don't celebrate Halloween here so I don't know how's exactly it feels like.When I watch Halloween event on movies I really love the way small children dressed up in cute costumes going trick-treat in neighbourhood. So adorable! But an American friend I met in gaming forum told me that now due to safety reason they only allow children trick-treat during day time,not after the dark. She said there might be real danger during Halloween night even though she doesn't believe in it but she prefer to be careful.
That's another reason I came out with poses. Megumi might look innocent enough to fool with but you'll never what will happen when she show the real side of herself. :)
Cover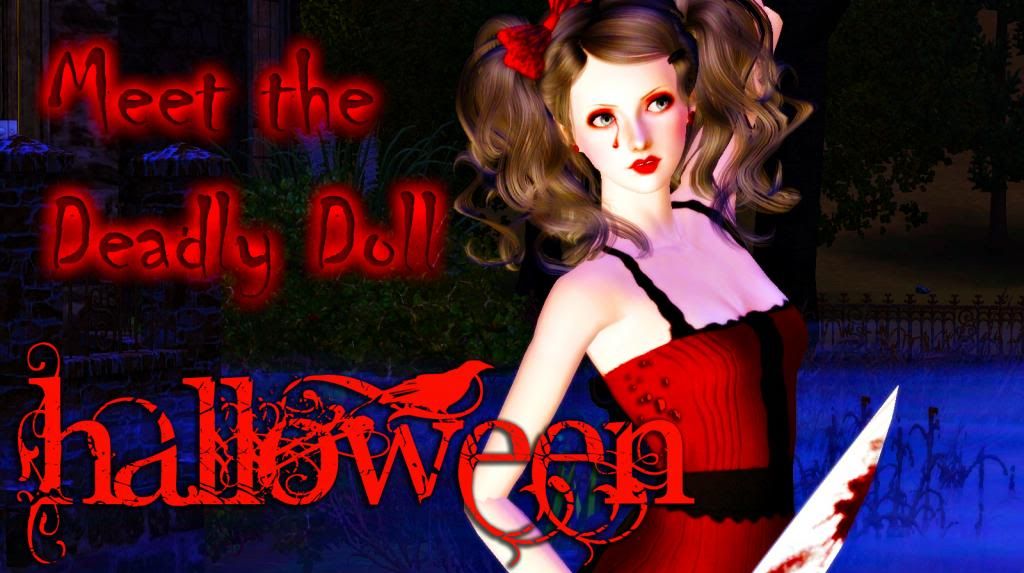 I had so much fun dressing this doll up during this pose making. So thank you to all dress creators! oh here Megumi is hanging out in front of her new house.
Deadly Doll 1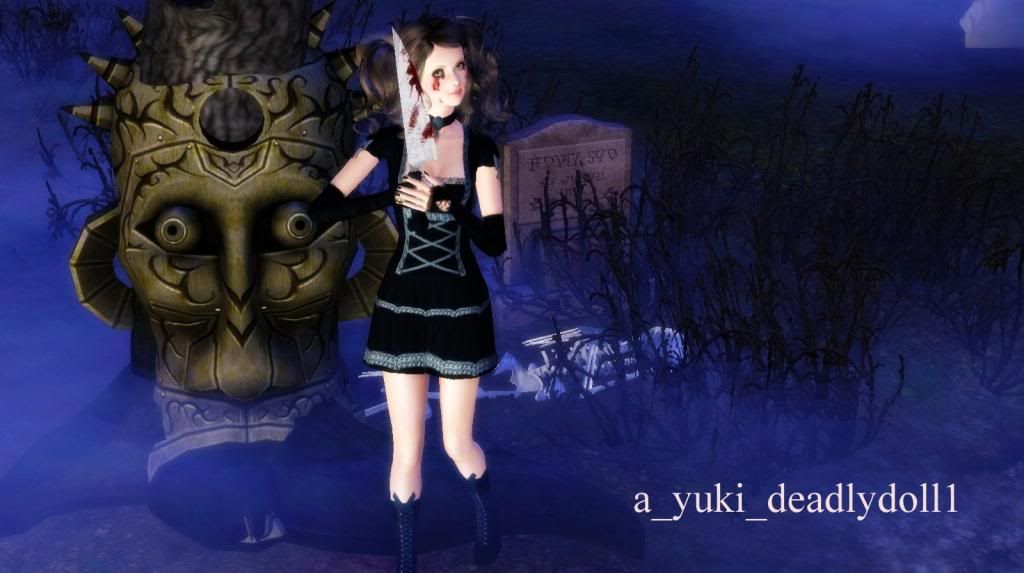 Deadly Doll 2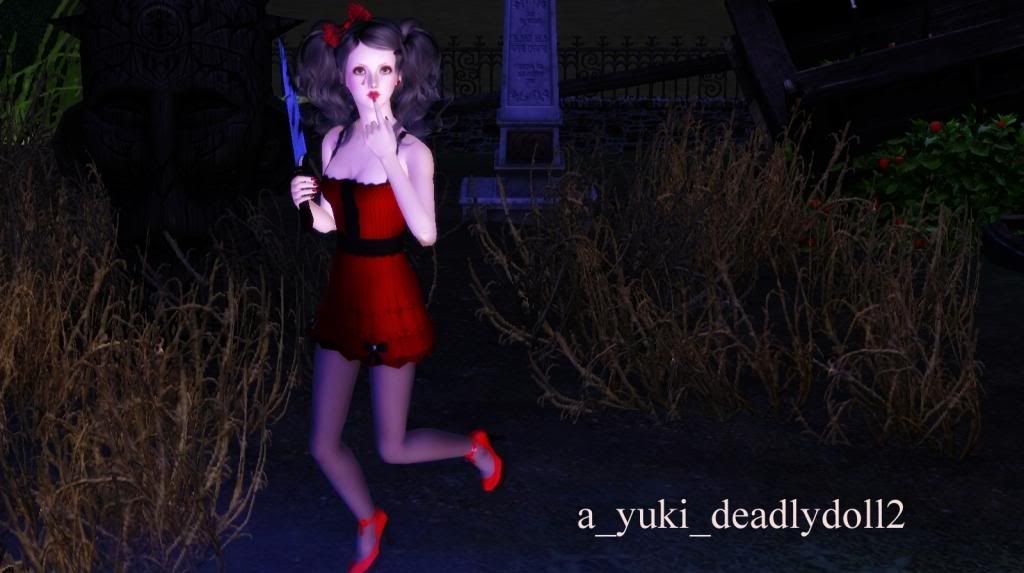 Deadly Doll 3 This is my personal favourite.She's supposed to be smiling but I don't want to mess up her facial expression so yeah.. :)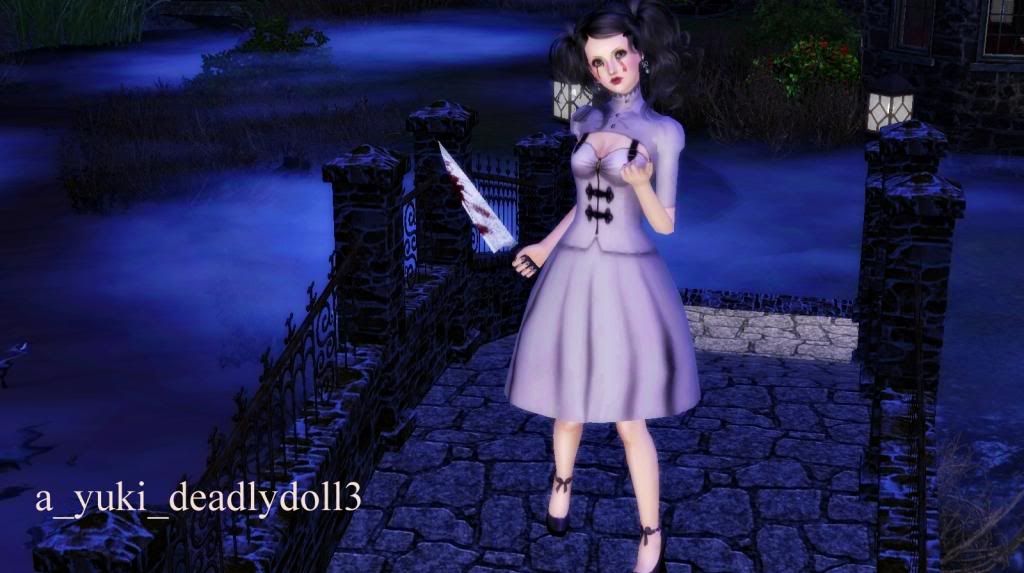 Deadly Doll 4 No sir,I'm not going to cut your hair! *smile*
Deadly Doll 5 Alright this is Megumi actual face before I put the blood tears. She does have innocent look and saying "Don't be afraid of me!".
I couldn't find suitable umbrella except for this one but just use anything you have. :)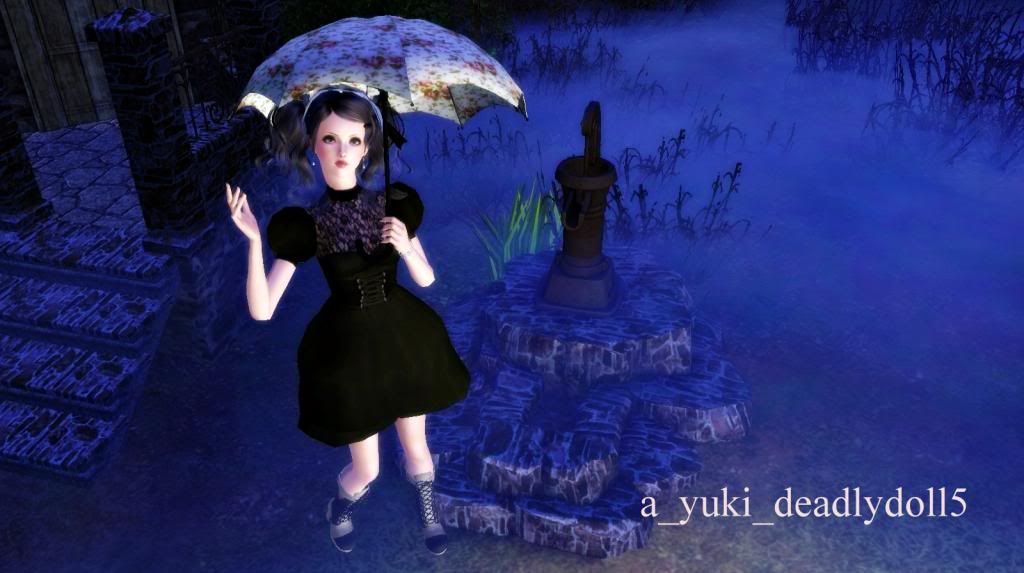 Pose player screenshot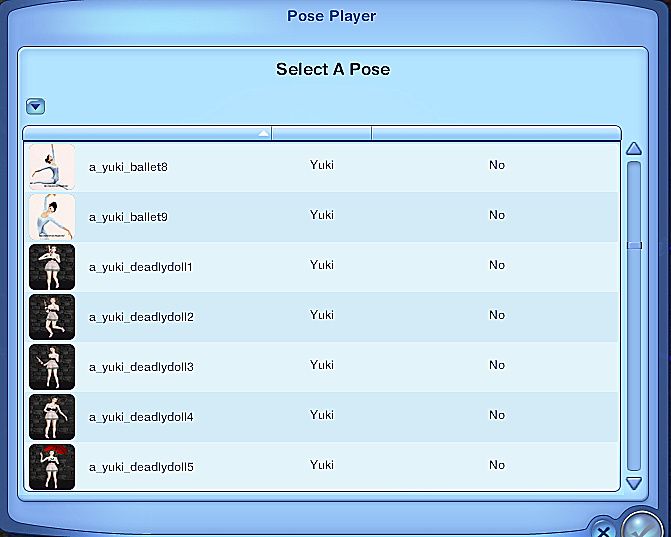 Credits
Hair and accessories:
Newsea,Rosesims,LL,Klavix
Clothes:
Saliwa,Lianasims,altea,moon333 and wiktoria(wikk!!! I LOVE YOU!)
House:
Ninotchka
Props:
1.The Vorpal Blade(knife) I use here is the weapon in Alice Madness Returns game. Meronin made perfect one for Sims 3 which you can download
HERE
2.Scissors is by Lemonleaf,download
HERE
3.Umbrella by Black Sweety,download
HERE
4.Bloody Tears by Gillian Ivy,download
HERE
5.Blood stain "Drain" by Arisuka,download
HERE
Instructions :
1.Extract.Then put DeadlyDoll package file into Documents\Electronic Arts\The Sims 3\Mods\Packages folder.
2.Make sure you have download cmomoney's PosePlayer first before using this pose set.
3.After installing this pose set(or any other mods)please delete cache files before starting Sims 3 game.
Important Notes 请注意:
1.PLEASE UPDATE YOUR GAME TO LATEST 1.38 PATCH. That's my game version so don't forget to patch yours to avoid any problem.
2.If I repeat IF your sims doesn't pose into position like shown in screenshots,please Cancel the pose action. Then select again in Pose player it should work fine.
DOWNLOAD
Any problem with this set please comment here.If you guys like Megumi poses I might come out with sweet version of her next time. Last,I want to wish Happy Halloween to all my Western friends. Have a nice weekend and take care!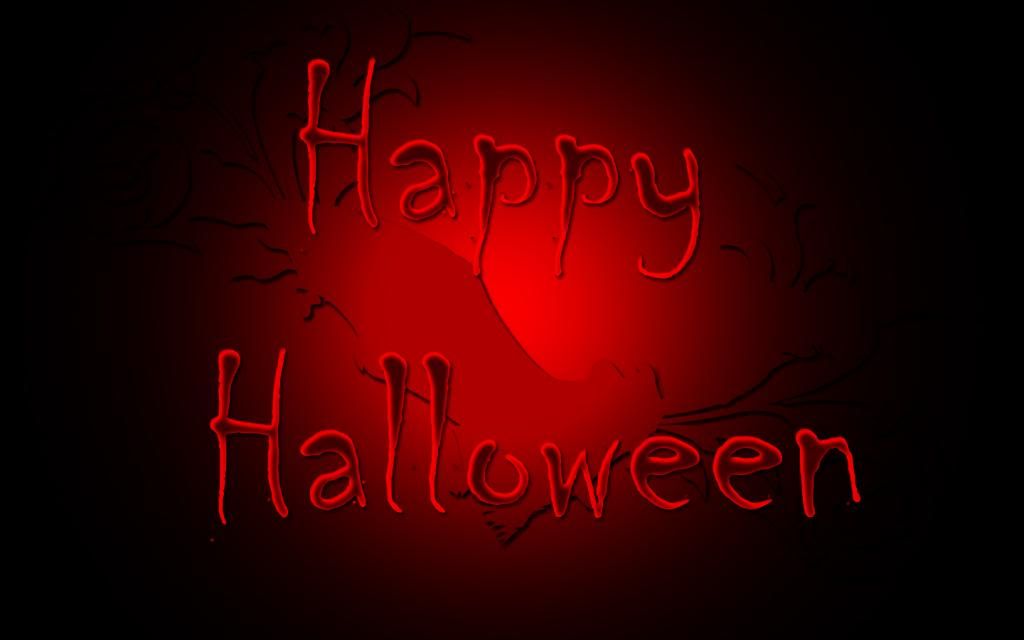 Love,
Yuki